Welcome to the Thai paradise!
If you are looking for warmth, sun,

clear sea,
exotic nature, kind people

and excellent cuisine,
you have come to the right place



.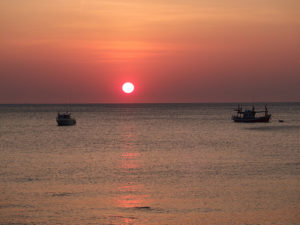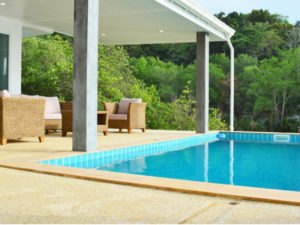 Why just the island of Lanta (Koh Lanta)?
During our travels around Thailand, we visited many destinations. The island of Lanta enchanted us and become a clear favourite.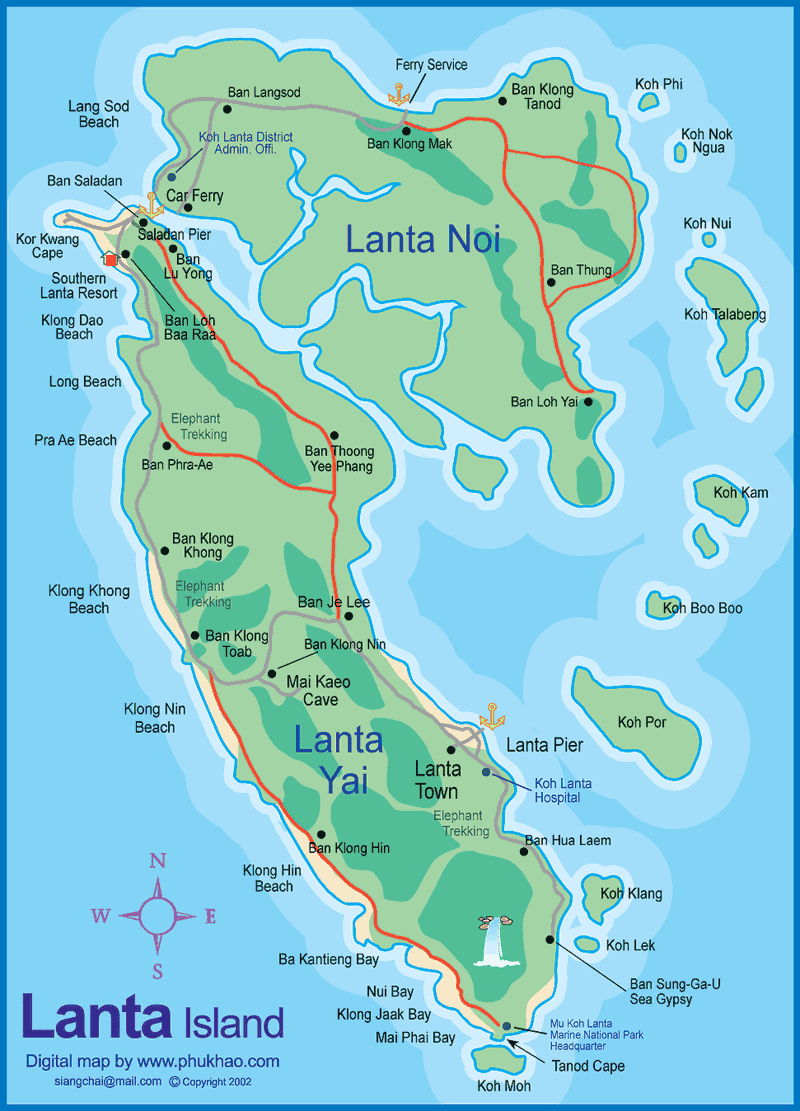 Basic information
The island of Lanta, whose coast with coral reefs is washed by the waters of the Andaman Sea, belongs to the province of Krabi and is a part of a peninsula consisting of fifty-two islands and of a marine national park.
The island has two parts – Lanta Noi (almost uninhabited) and Lanta Yai (tourist centre). The area of Lanta Yai is 27 x 6 kilometres and its eastern coast with dense mangrove belt is far from tourist locations and inhabited primarily by local people who make their living by fishing, working in gum tree and coconut plantations and keeping livestock.
The western coast consists of 25 kilometres of beaches, famous for their sunsets. This is also the reason why the place is called the Sunny Island.
The eastern and western coasts are separated by a mountain ridge with rain forest that is a part of the national park and preserve. It contains trees which can only be seen elsewhere in rain forests in Brazil. The island is abundant with rich flora (e.g. ubiquitous and never withering orchids and hibiscuses of various sorts and colours, many species of palms and other woody plants) and fauna (elephants, birds including golden eagles and kingfishers, tropical butterflies, macaques, geckos, monitor lizards and others).
Around the island, there are many better- or less-known islands, including the famous Phi Phi (only 40 minutes on boat far), Ko Ha, Ko Talabeng, Ko Boo Boo and others.
The administrative centre of Lanta Yai is Ban Saladan (banks, post office, police, shops, schools…).
The population of Lanta consists mainly of Muslim fishermen, with a little percentage of descendants of Chinese traders and the ethnic group of Moken – Sea Gypsies. Since local people are friendly and peaceful, Muslims and Buddhists have lived here in harmony for centuries.
What you will find here?
There are quiet, little-frequented beaches, clear and warm sea, beautiful nature. You can enjoy trips to nearby islands, kayaking in mangroves or in the open sea, scuba diving and snorkelling in locations that belong among the most beautiful in the world, golf, fishing, climbing, hiking, bivouacking in the jungle, riding elephants or horses, Thai box but also meditation in the local Buddhist temple or excellent massages. Besides, you can use the service of a tattoo studio and visit the butterfly farm, garden of orchids or snake show.
Rich markets with local fresh products will surprise you with the variety of fruits, vegetables, spices, herbs, fish and seafood. Naturally, all common foods can be bought in shops.
As a bonus, the island offers a fascinating view of sunset over the sea, one of the most beautiful in Thailand.
Safety
The island of Koh Lanta is safe. Local communities are friendly. You can travel freely and without any concerns.
Health care is available in a very good quality. There are many clinics, some of them working 24 hours a day. Minor health issues can be consulted with experts in one of many local pharmacies.
The island has a tsunami warning system (sea probes and satellite transmission).
What you will not find here?
Too many people, wild discos, prostitution, excessive noise.
Why to stay at an apartment or villa?
It is a common and locally routine way of accommodation without any administrative complications. Some tourists even arrive without booking and look for accommodation on the spot using mediators. However, based on our experience we recommend choosing and booking accommodation in advance.
What do you get by staying at an apartment or villa?
1. You do not pay for services that you do not use.
2. Exceptionality and originality of accommodation.
3. Complete privacy and the possibility of carrying on your usual lifestyle.
4. High standard of accommodation for a pleasant price.
5. Fully equipped kitchen to prepare dishes that you wish (ingredients to cook many European meals can be bought fresh and in high quality in local daily markets). A great culinary experience is to invite to your place a Thai cook who will buy ingredients with you, prepare a local specialty before you and also teach you to cook it.
In general, southern Thailand has an excellent cuisine and it is possible to eat safely not only in restaurants but also in stands where they always prepare fresh food for you. From breakfast to late dinner, you can have great Thai food literally on every corner. However, from our experience we know that after a few days Europeans feel like having something European, and for this case, there are German and French bakery and café, Italian, Greek, English, French and Scandinavian restaurants and an excellent confectionery.
ISLAND TIPS AND RECOMMENDATIONS
Transport
Car transport from the Krabi airport takes approximately two hours including the ferry; the other ferry has been replaced with a bridge in 2016.
Transport tips:
private air-conditioned taxi from the Krabi airport: 2200-2500 BTH
seat in an air-conditioned minibus, with a suitcase: 700 BTH
renting a scooter: 150-200 BTH / day
renting a car at the airport: from 800 BTH
ferry from Krabi to Koh Lanta (taxi from the airport to the Krabi port and from the Koh Lanta port to the house):1000-1200 BTH
On the island, you can travel in the most comfortable and cheapest way using motorcycles or cars and bikes. All these means of transport can be rented from many rental companies. If you do not dare driving yourselves, you can always hire a special local taxi, the tuk-tuk.
Getting around the island
The easiest way of finding where you are on the island is based on the names of beaches from north to south:
1. Kaw Kwang Beach
2. Klong Dao Beach
3. Long Beach (Phra Ae)
4. Klong Kong Beach
5. Klong Toab Beach
6. Klong Nin Beach
7. Klong Hin Beach
8. Kantiang Beach
From north to south, the island is intersected by one road in its eastern part (it starts in Saladan and leads through Old Town and further to south) and another in the west (from Saladan southwards to the preserve and the lighthouse). There are two roads connecting east and west in the areas of Long Beach (Phra Ae) and Klong Nin (see the map).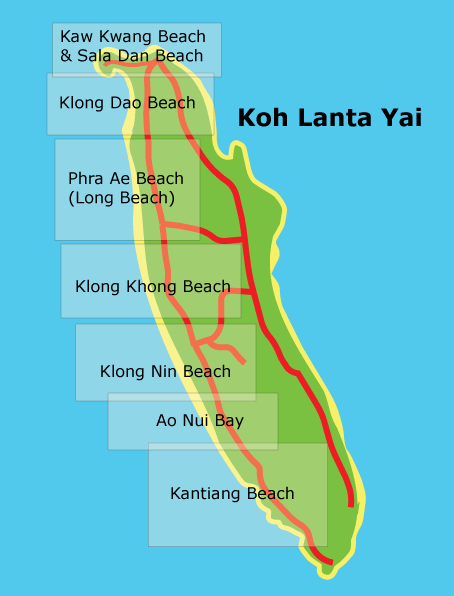 Restaurants
Since for most people food is not only an important but also pleasant part of their lives, which applies twice as much in Thailand, we recommend some of the best restaurant on the island, based on our own experience.
Klong Khong Restaurant (Klong Khong Beach area, not directly at the beach but near the main road), Muslim restaurant with a fantastic Thai, Indian and European cuisine, friendly staff and affordable prices. The only flaw is that they do not offer alcoholic drinks. However, you can bring your own beer.
Three Sisters Restaurant (Klong Khong Beach area, not directly at the beach but near the main road)
Krua Kritsana (Long Beach, near the main road)
E-San Thai Food (Klong Dao, near the main road)
Shanti Shanti (Klong Toab Beach), stylish pub on piles above the sea
Fat Monkey (Klong Dao, near the main road), renowned restaurant with an excellent bar
Baifern (Ban Saladan ), on piles above the sea
Noon Sunset View Point Restaurant (Kantiang Beach), restaurant with unique atmosphere on a cliff high above the sea
Coconut Grove Restaurant (Klong Toab), modern restaurant above the beach
Panorama Restaurant (eastern coast), one of a few restaurants located high above mangroves, offering fascinating views of the sea and Malaysia
The Irish Embassy Pub
Buying souvenirs
The best opportunity to buy souvenirs is in the evening markets in Saladan and in Old Town on the eastern coast.
Markets
Food markets change their place daily and take place seven times a week in the afternoon until sunset. The biggest one is the Saturday market in Saladan; on Sunday, there is only a small morning market in Old Town.
The closest market from accommodation which we offer at the Frederica apartment in Lanta Loft is at the Long Beach, every Thursday. The closest market from the Villa Yvett in the Coconut Bay is at Klong Nin, every Tuesday.
Things you should see
1. Natural preserve Mu in the southern tip of the island. You can see the lighthouse and protected palm grove, follow the nature trail through the forest and bathe at the impressive beach. On your way with captivating views of the sea, you will hear the "electric" sound of million cicadas. You can stop at the Noon restaurant or another scenic pub.
2. Old Town (Si Raya), ancient town with Chinese history, former part of the Silk Road, with shops selling Thai products and good restaurants on piles above the sea. The road to Old Town is a great visual experience in itself.
3. Buildings above the water in Ban Saladan (e.g. the Baifern restaurant)
4. Quarter of Sea Gypsies in Ban Saladan and Chao Ley on the eastern coast of the island
5. Mai Kaeo Cave – cave complex approximately in the middle of the island (physically demanding)
6. Klong Chak Waterfall (with a cave) – in the dry season (December to March) mostly without water
7. Four Islands (Koh Chuk, Koh Mook, Koh Kradan, Koh Ngai) – one-day trip with snorkelling and visit to the Emerald Cave
8. Ko Talabeng (with the bat cave) and Ko Boo Boo – half-day trip, starting at the Old Town port, tickets to be bought at the spot
9. Nature trail in mangroves with a kayak or barge trip
You will obtain details about all trips at many information centres. In these centres you can also order the chosen activity without any fear of being deceived by the intermediary.
Sport: Scuba diving is a great choice of spending your time when on Lanta. In some rankings, this location is among top ten for scuba diving in the world. There has been a Czech diving base here for many years. Especially famous is diving on the islands of Hin Daeng and Hin Muang where visibility can reach 40 metres.
Other activities include snorkelling, paddleboarding, kayaking, horse riding, paintball, bodybuilding at the fitness centre, yoga, Thai box, hiking, climbing etc.
Other tips
Massages – in our opinion, the best saloon is "I am Massage" (Klong Kong)
Meditation at the Buddhist temple in Saladan
Visit to the "Indian" (Klong Dao). At the beach, on a deckchair and with a glass of something delicious, you will experience the unique atmosphere of sunset and then the spectacular fire show.
Visit to the iRie Restaurant and Bar (Phra Ae) with live music several times a week. The restaurant is renowned mainly for reggae music and very relaxed and friendly atmosphere.
Visit to the Mong Bar (Klong Nin) – stylish, original bar in the jungle, known to practically anybody who visited Lanta. Two or three times a week there is a night party, advertised with placards along roads.
A special chapter should be devoted to Thai feasts, organized and experienced to the full from meals through ceremonial dresses and costumes to stage productions.
Loy Kratong (Festival of Lights, or Festival of Water). This is a movable feast, taking place on the full moon of the twelfth month of the lunar calendar. It is always in the second half of November and offers a great spectacle. The festival takes place in Old Town.
Lanta Lanta Festival – very colourful and, for Europeans, interesting presentation, resembling May Day parades with floats, local costumes, music and dance productions and shows of crafts and branches typical for the island.
Songkran – celebration of the Thai New Year, with good food and drinks. The feast includes the practice of water pouring.