Lanta Loft 2A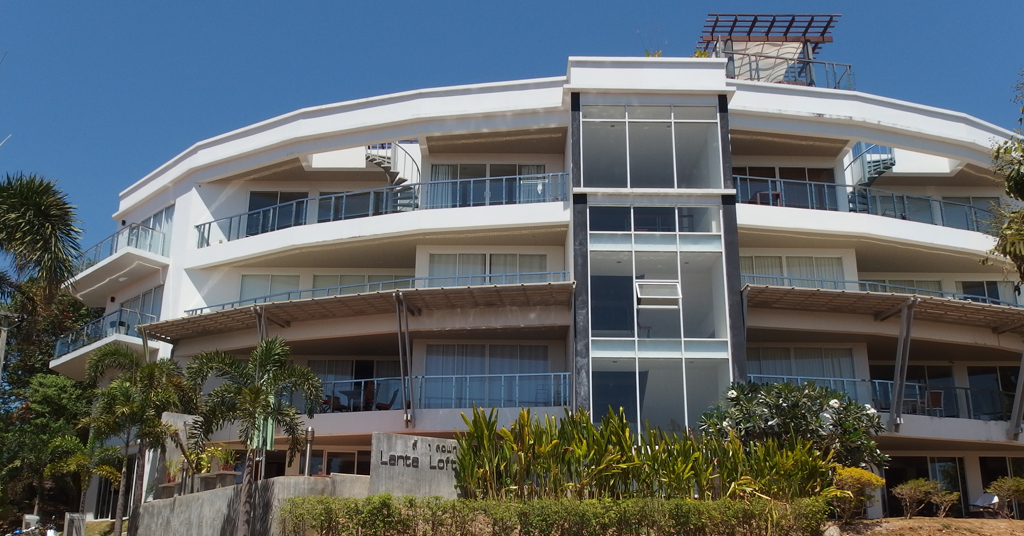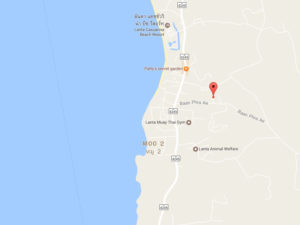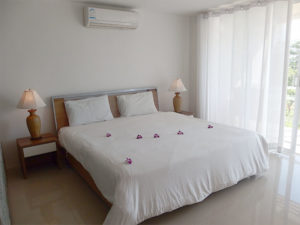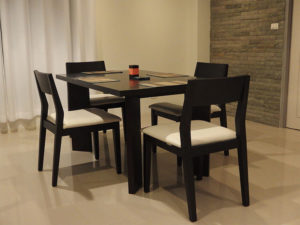 More photos in our gallery.
Address
Lanta Loft 2A 568, Moo3 Lanta 81150 GPS coordinates: 7.5966700N, 99.0398031E
MAP
Route description
From Saladan towards the Long Beach (Phra Ae). Turn to the left on Baan Phra Ae towards the Beer House / Elephant Show. After 400 metres from the exit, Lanta Loft is a big white building on the left.  
Apartment description
Modern, designer, spacious (160 m2), airy, fully equipped apartment on the 2nd floor of an apartment complex with a kitchen, dining room, living area, two air-conditioned bedrooms with the possibility of a folding cot and other equipment for a baby, three bathrooms, large terrace with a view of the sea and sunset and a swimming pool. The house is located in a quiet area, on a mild slope 700 metres from the Phra Ae beach. The journey to the beach is a pleasant walk; we recommend taking a taxi (tuk-tuk) back uphill.  
Equipment, services
Room for suitcases, little toilet for visitors, kitchen with freezer, oven, cooker, coffee maker, toaster, microwave oven, hot water 24 days a day, TV, DVD, ventilator, safe, 2 double beds 2 x 2 metres, sofa, dining table, terrace furniture, cloth dryers. Beds with clean linen, 1 towel and 2 bath towels for each guest. Cleaned once a week by a cleaning company (on Mondays, approximately from 1 a.m. to 3 p.m.). Complete cleaning including replacement of bed linen, towels and bath towels.
Notice
: We do not provide catering. Please, do not smoke inside the apartment. Upon check-in and check-out, electrometer readings are taken. Clients pay the total electricity consumption. The price is similar to the European price (10 BHT/KWh). The payment will be made in cash upon check-out. Upon check-in, the security deposit in the amount of 10.000 BHT (or an equivalent in another currency) is to be paid. This security deposit will be returned upon check-out. Any damage caused will be deducted from the security deposit.  
PRICELIST
Season

From
To
Week

Price per day

 Minimum nights

Green season

May

31. October

14000B

 2000B

5 nights

High season

November

14. December

23000B

 3 5

00B

3 nights

Peak season

15. December

15. January

35000B

5 000B
4 Nights

High season

16. January

30. April

23000B
3 500B

3 nights
Note to the pricelist: Price conversion rate:  35BTH = 1 EUR.   How to order – Select a free term in the calendar. Send mail to contact.   Kontakt  hotova.yvetta@centrum.cz    mob.telefon : +420 723 462 383   Please, note that a minimum reservation of 7 nights is required for Lanta Loft Apartment 2A during Green Season and 5 nights during High and Peak Seasons.
There are no services available for the period you selected.
You must select at least two days
You must select at least [min] days
You must select more than [max] days
You must select at least [min] hour
You must select more than [max] hour